FOR RELEASE
March 19, 2016 (Feast of St. Joseph)

Joseph Godges, Immigrant and Hero, 1924–2016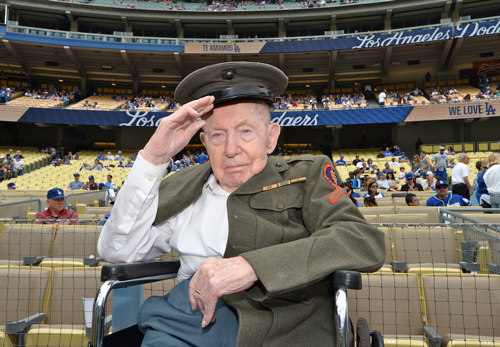 An unshakable salute from U.S. Marine Corps Private First Class Joseph Godges.
PHOTO COURTESY LOS ANGELES DODGERS/JILL WEISLEDER
JOSEPH GODGES, 91, DIED CALMLY OF NATURAL CAUSES on January 1, 2016. As an 11-year-old immigrant from Poland, he had dreamed of becoming a U.S. citizen. He grew up to become an American hero.
Born as Jozef Godzisz in Rozlopy, Poland, he arrived in Hamtramck, Mich., in 1935. At 17, he joined the Civilian Conservation Corps. At 18, he enlisted in the U.S. Marine Corps to fight in World War II, although he had not yet completed the 10th grade. He participated in three beachhead invasions in the Pacific, including the 21-day battle to liberate Guam. While recuperating from his wounds at the Philadelphia Naval Hospital in 1945, he was escorted to a one-on-one ceremony at which an immigration judge swore in Joseph as a naturalized U.S. citizen.
On Oct. 29, 1949, he and Ida Di Gregorio, from Mason City, Iowa, were married in Los Angeles. With the help of the GI Bill, he completed a business degree at Loyola University in 1950. He and Ida became founding members of St. Lawrence Martyr Catholic Parish in Redondo Beach, Calif., where they raised six children. His accounting and internal auditing career progressed steadily at several firms, from Douglas Aircraft Company to the Xerox Corporation.
At age 73, Joseph accepted an invitation from the governor of Guam to return for a hero's welcome for the island's 53rd Liberation Day celebrations in July 1997. In May 2015, tens of thousands of fans gave Joseph a standing ovation as the Military Hero of the Game at Dodger Stadium.
As Joseph grew physically weaker in the final years of his life, he also grew spiritually more serene. He cherished his days with his wife of 66 years and his frequent visits with his six children and their families. On New Year's Day 2016, he said his prayers once more and then passed peacefully in the arms of his eldest son.
§