FOR RELEASE
November 30, 2010
Godges Speaks from the Heart at Village Books, Releases Videos of Entire Event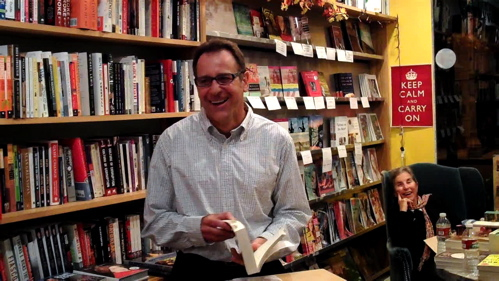 Like the book itself, the book presentation was a combination of looking inward, outward, upward, and forward, as illustrated by the photos above and below.
BY POPULAR DEMAND, a full set of 14 videos from the November 15 presentation of Oh, Beautiful: An American Family in the 20th Century at Village Books in Pacific Palisades, California, has been posted on YouTube.
"We had a great turnout for the event, but several people couldn't make it, and many asked if there could be a video," said author John Paul Godges. "Now there is!"
The 14 videos run under an hour in total. The first and last clips show Village Books owner Katie O'Laughlin lauding the performance in its aftermath. In the first few clips of Godges at the podium, he credits his parents' 50th wedding anniversary as the inspiration for the book, shares secrets of extracting his family's oral history, and reveals how Ellis Island helped him solve a century-old family riddle.
During the question-and-answer period, Godges suggests that the tragic death of his great-grandfather, an Italian immigrant laborer, while riding the rails in 1902 bears an eerie resemblance to the fates of many immigrant laborers today. Godges characterizes Prohibition as a culture war and notes that some things have not changed much in the past century. He also responds to queries about the condition of his heart and the structure of his book, both of which he reports to be in sound working order.
In his readings, Godges rekindles an act of great compassion from the Great Depression, invokes The Sound of Music as an American Catholic milestone, and stokes the "Fun, Fun, Fun" of a California surfer girl. The videos conclude with Godges inscribing his Polish solidarity and bidding farewell to his family, friends, and fans.
"The book is a wonderful gift for the holidays," he hastened to add. "I love it when people tell me they've discussed the book with their parents or siblings. It's the kind of book that can help families come closer together for an uplifting New Year and beyond."
§
All 14 videos can be viewed in a separate window on this YouTube channel:
Godges Speaks from the Heart

§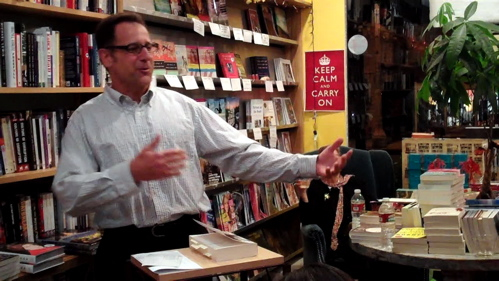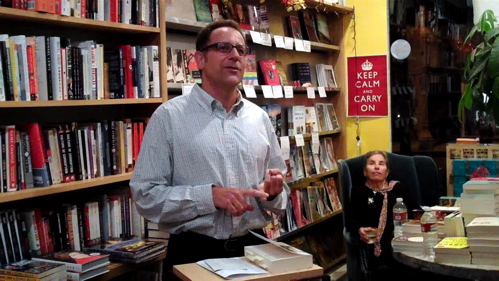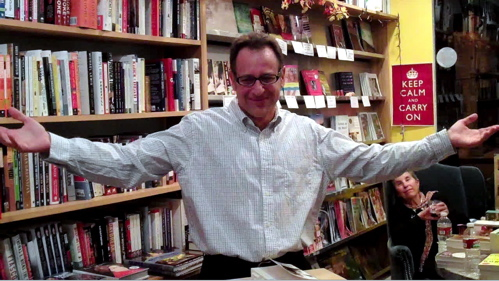 PHOTOS BY MARY JO GODGES