FOR RELEASE
May 14, 2012
"Oh, Beautiful" Named 2012
Eric Hoffer Book Award Recipient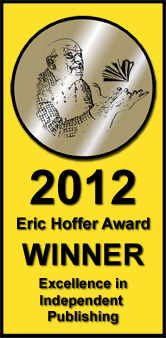 §
OH, BEAUTIFUL: An American Family in the 20th Century placed as first runner-up in the 2012 Eric Hoffer Book Award category of Culture, the awards committee announced March 13, 2012. The Culture category encompasses nonfiction titles "demonstrating the human or world experience" across several cultural dimensions.
The Eric Hoffer Book Award honors the memory of the American philosopher Eric Hoffer, who wrote ten books about working-class social issues. The award highlights "salient writing" as well as the "independent spirit" of small publishers.
"It's fitting to receive this award for Oh, Beautiful in memory of a man who was a migrant worker, longshoreman, and free thinker," said author John Paul Godges. "I think a lot of the characters in this book could relate to Eric Hoffer."
The Eric Hoffer Award for short prose and books was established at the start of the 21st century "as a means of opening a door to writing of significant merit."
The full list of Eric Hoffer Book Award recipients can be found by clicking the banner above.
§
Reviews of all 2012 Eric Hoffer Book Award recipients

§