FOR RELEASE
November 11, 2010 (Veterans Day)
Village Books to Host "Oh, Beautiful" Event in Pacific Palisades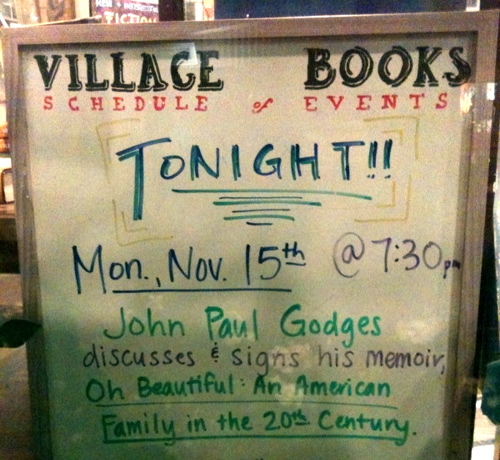 Let the show begin!
KNOWN FOR ITS DEDICATION TO LOCAL AUTHORS and its cozy atmosphere, Village Books will host a discussion, reading, and signing with Santa Monica author John Paul Godges on Monday, November 15, at 7:30 p.m. He will discuss the why, the how, and the fun of writing Oh, Beautiful: An American Family in the 20th Century.
"I know that Monday night is unusual," said Godges. "Then again, traffic could be light, and this is a good opportunity for people to buy a heartwarming holiday gift for family members and friends. After all, this book does show how any family can come together for an uplifting New Year."
Located in the heart of Palisades Village in the Pacific Palisades section of Los Angeles near Santa Monica, Village Books is a popular independent bookstore. Handwritten book reviews from local readers stuff the books and peak out of shelves around the store, offering a look into what the locals are reading. The store address is 1049 Swarthmore Avenue, just a block east of Sunset Boulevard.
"I'm thrilled that this event will be happening at Village Books!" said Godges. "It's more than just a bookstore. It's a community hub and a neighborhood refuge. It's the perfect place to share a story about American families and communities."
§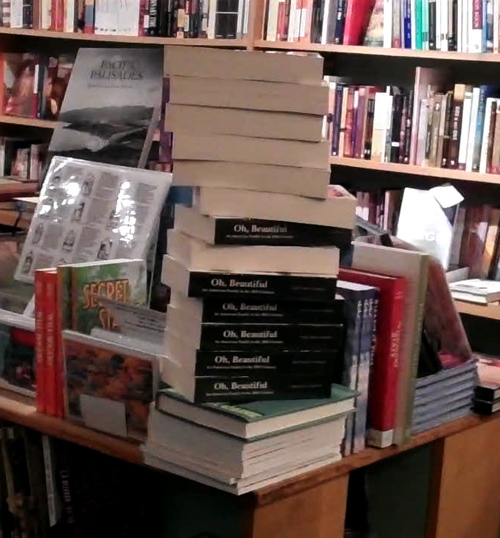 Village Books prepares for a busy night.
PHOTOS BY MARY JO GODGES