FOR RELEASE
March 24, 2012
"Oh, Beautiful" Hits #3 on Amazon Paperback List for U.S. Genealogy
SELLING AT A STEADY CLIP, Oh, Beautiful: An American Family in the 20th Century rose to #3 on the Amazon bestseller list this past week for paperbacks in the category of U.S. genealogy. At nearly the same time, the family memoir hit #5 on the Amazon Kindle bestseller list for genealogy.
"It's been gratifying to see the book grow in popularity among genealogists and family historians," said the author, John Paul Godges. "The genealogy blogs have been lighting up and spreading the word about the book as a good example of how to bring a family story to life."
As shown below, Oh, Beautiful stood in good company at #3 on the U.S. genealogy paperback bestseller list, landing one spot above Slaves in the Family, which had won the 1998 National Book Award for nonfiction.
Oh, Beautiful also ranked #14 on the Amazon paperback bestseller list for memoirs related to childhood and the family. The book shared good company in this category as well, falling just four spots below the 2005 Jeannette Walls memoir, The Glass Castle.
LATE-BREAKING UPDATE: SEE EVEN BETTER NEWS BELOW!
§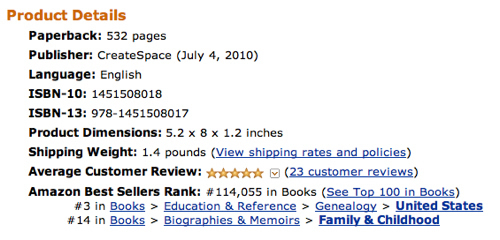 Above are the Amazon paperback rankings for Oh, Beautiful on March 22, 2012. Below are the five bestselling Amazon paperbacks that day in U.S. genealogy.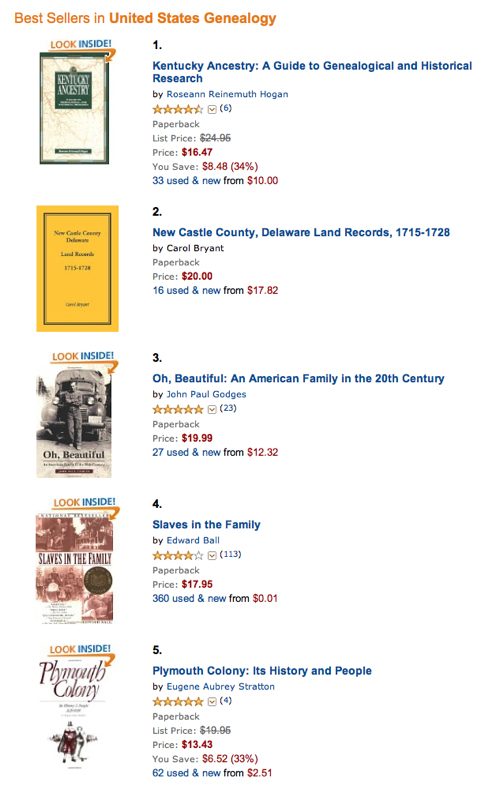 §
UPDATE: As of 10:30 p.m. today Pacific time, Oh, Beautiful climbed to #2 in U.S. genealogy, trailing only Lisa See's On Gold Mountain: The 100-Year Odyssey of a Chinese-American Family, as shown below.
§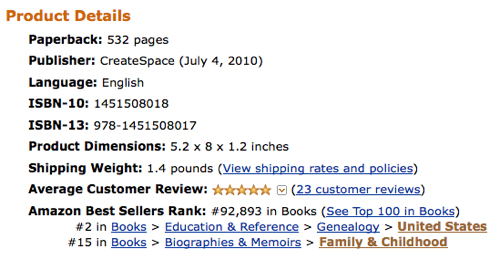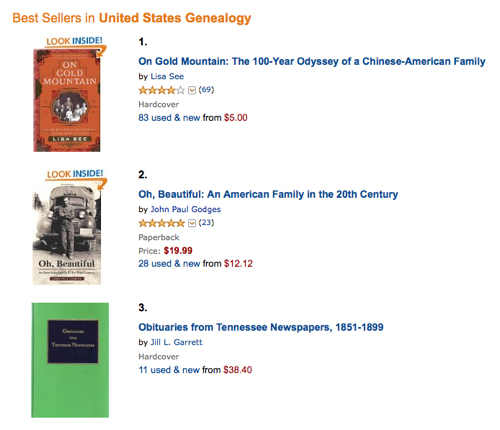 §