FOR RELEASE
September 14, 2011
Real Readers of Hollywood Riviera
Ply Author with Wine and Kindness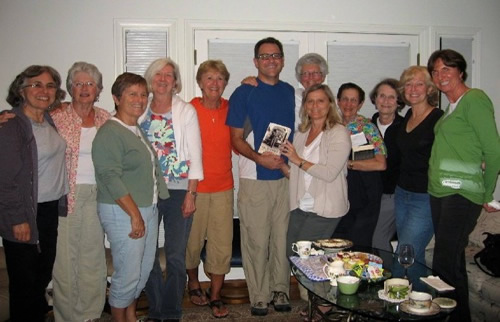 Hollywood Riviera readers cap a delightful evening of wine, dinner, discussion, and dessert: Roz Fanello, Dorothy McRell, Claire Tehan, Carole Suddaby, Sharon Marsee, John Paul Godges (guest), Diana Neidert, Nita Birnbaum (holding book), Emmy Stuhlbarg, Mary Brickhouse, Pat Ressler, and Bert Stephens.
PHOTO BY PATTY DOYLE
IT WAS ONE OF THOSE EVENINGS YOU WISH WOULD LAST FOREVER. Golden-hearted people. Heartwarming homemade lasagna. Astute questions about a true story and its living characters. And reflections on the common bonds we share.
These were the ingredients of a late summer night's dream at the Hollywood Riviera home of Patty Doyle and Diana Neidert—a home with a view of some of the Southern California neighborhoods described in Oh, Beautiful: An American Family in the 20th Century, the topic of the evening's discussion.
"Is there going to be an Oh, Beautiful 2?" implored reader Dorothy McRell. "I miss the family!"
Now who could not miss a group like this?
§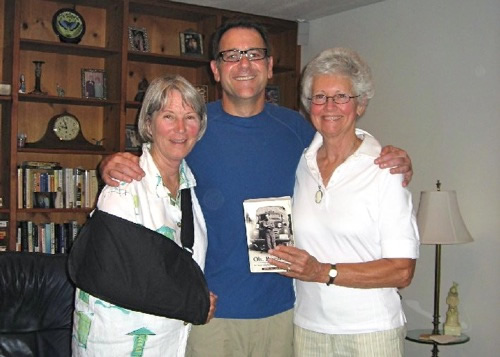 Hostesses Patty Doyle and Diana Neidert read the entire book together—out loud!
PHOTO BY CLAIRE TEHAN