Reviews of Oh, Beautiful
§
§
"I WOULD LIKE TO THANK THE AUTHOR OF THIS BOOK FOR REMINDING ME OF MY PATRIOTISM AND LOVE FOR AMERICA during this recent troubling political campaign season. John Godges researched deep into his family history to tell the stories of the individuals who left homelands for the promise of America. The stories he tells of their relationships, their difficulties, and successes were very engaging. He knows how to write a memoir, when to insert himself into the story, and how to make you feel like you are a part of the family.
"The majority of the book tells the story of his parents, who were the children of these immigrants, and their six children: the author's older siblings. These were kids who grew up in the 1970s and '80s, with staunch Catholic parents who loved and revered America, had high expectations, and many challenges. He chronicles each sibling's journey to adulthood with their distinctly unique personalities, priorities, and problems all viewed through the lens of their Catholic upbringing.
"I really enjoyed reading this memoir. As I am in the middle of my own parenting experience, it reminds me that all children come with their unique divine personality traits and talents and my job as their mother is to love them and support them while teaching morals and standards. The different styles of rearing children described in this book gave me much to think about. It was also an interesting glimpse into mental illness, and how it can challenge and teach great lessons in families.
"This is a long book, but is worth the read. It makes you reflect on your own immigrant heritage and the gift of American freedom."
—Kristine, Springfield, Oregon
§
IT WAS AMAZING. Through the lens of his own family, the author recounts the story of 20th-century America. He explores the inner workings of faith, relationships, and history. He is breathtaking in his honesty. I laughed, and I cried."
—Doreen Duley, director of pastoral care for Children's Health System, Birmingham, Alabama
§
§
"A FAMILY GAINED. I entered the history of Mr. Godges' family as a shy guest and, by the time I was done, was ready to sit at the family dinner table and argue the specifics of any given event as if I had been there myself. The people in the book may no longer have a living, breathing presence, but Mr. Godges has captured them with such a vivid sense of character, humor, and pathos, this particular American family will live on in our imaginations—and the world will be richer as a result."
—Louise Godbold, Los Angeles, California
§
§
"WELL DONE! I simply had to stick with it to the last page to see how it turned out."
—Al Canary, West Springfield, Massachusetts
§
"LOVED EVERY WORD. Many thanks to the author for sharing this beautiful story. I could hardly put this book down once I started it, and recommended it to as many friends and family as I could, including my aunt. She often says, 'What family doesn't have its problems,' attributing the quote to Katharine Hepburn in a Shakespeare role. It was nice to read about a family that was so much like mine. Joy, sadness, what we do between dinner and sleeping. I enjoyed the balance of honesty, introspection, detachment. Great book."
—Anonymous, posted on Amazon
§
"BRAVE. WITHOUT PRETENSE OR TIMIDITY, Mr. Godges lays bare his family in weaving their story with the larger American theme. And we, the readers, are the beneficiaries of this honest and well-written tome. The writing is descriptive and often beautiful. More importantly, it's honest. There are few among us who could pull no punches like this, particularly when writing about those closest to us.
"Godges artfully uses tolerance as a foil to intolerance, which seems obvious. But he does this in such a subtle way that the reader feels for both the immigrant and the ancestral beneficiary of hard work, determination, and luck. And in that way, he also describes quite accurately—to this grandson of immigrants—the real experience of how immigrants were 'melted' into this country while also building their own fences against their new home. The actual fence he describes to protect the children's yard is potently symbolic; but, as with the rest of the book, this doesn't quite strike the reader until post-reading reflection.
"It is obvious that a good deal of research is behind this impressive narrative of how two families converged on these shores as Europeans, eventually to fold into the America we know, with all its triumphs and warts. More obvious is the tacit proof of an underlying theme of this book: Above all, love of family, and a quietly understood need for tolerance within dogma, trump all else. This proof is the fact that Mr. Godges' family sat for candid, and likely very long, interviews. Ask yourself as a reader, would you be brave enough to ask these questions of your family?"
—Dr. Gary Cecchine, New Orleans, Louisiana
§
"JOHN PAUL GODGES' FINE MEMOIR about five generations of his family took me back on a sentimental journey. My family and his have similar immigrant timelines, ethnic traditions, and family values. That said, this book offers a rich read beyond those confines. At the heart of the memoir is a question: What does it mean to be an American?
"A journalist with an American Studies background, Godges crafted this memoir to work on two levels. Oh, Beautiful is an insightful recounting of his family's history. It is also an artful window into 100 years of American history. World War I, Prohibition, the Great Depression, World War II, and other events and social movements shaped his family—and vice-versa! The development of America as a country and the ethos of her people are not only inseparable, but still evolving.
"As a family historian, I admire the author's research prowess and his skill in integrating the levels of storytelling found in this book, blending personal and historical. The memoir introduces his mother's Italian family first, then his father's Polish family, and then the author and his siblings. Joys, sadness, challenges, and much love fill the pages. There is extensive authentic period detail, lots about ethnic traditions, and a view into the individual perspectives and values of family members from multiple generations. This includes religious beliefs, rites, and practices that glue the family together, set expectations, give comfort, guide decisions, and cause some of the major conflicts between family members.
"That this is a 'deep' portrait of numerous 'characters' is one of the greatest strengths of Oh, Beautiful. I expected the author to share the various strengths of his ancestors, and he did. But sharing the serious illnesses, behavioral quirks, and craziness, as well as the lifestyle diversity, language endearments and hurdles, and difficult lessons learned by various family members elevated this memoir. Godges refrains from judging, and instead recounts the facts and the 'inside view' of a situation, possibly gained via nonverbal detection senses inherited from his mother. And, much like his grandfather Di Gregorio, John Paul Godges keeps an eye out for the ultimate silver lining in the more difficult incidents, and then offers it with the kindness of a sage, emulating his father's cousin and mentor, Father Joe. In the early pages, the author noted that he toggled between personal interviews and hard research in order to clarify the foggy memories; the types of primary and secondary sources at the end of the book are evidence of that precision, a trait he undoubtedly gained from his father.
"The memoir has attributes of a giant jigsaw puzzle. Author Godges sets the perimeter at the start and then shows us how each puzzle piece adds to the understanding of his family's—and America's—cohesiveness, despite the many challenges faced. The writing style is smooth and skilled. The focus shifts back and forth in time when it suits the storytelling. From the initial horrifying story from his mother's family, we travel back across the Atlantic, learn the origins of his grandparents, and feel, through his ancestors, the myriad of emotions our own ancestors must have felt in trying to decide if they should leave their European homes.
"Many audiences will appreciate Oh, Beautiful: those interested in memoirs of family history, recent American history, and social history aficionados, to name a few. While sharing the joys, tragedies, and challenges of a particular family, the author uses a wide-angle lens, interweaving a century of America's history. I expect that descendents of the author's family will appreciate this book even more fifty years from now. Hopefully, someone in his family will choose to continue the chronicle."
—Bernice L. Rocque, author of Until the Robin Walks on Snow, with the author website at 3houses.com, Connecticut
§
§
"THE BOOK HAS A LOT TO GIVE, but one of the main attractions is the huge arsenal of historical detail. Godges describes the roots of his family in Italy and Poland, the reasons why members of the respective families decided to try their fortunes in the United States, how they and their kin lived, and how they got the money for the journey. Godges' ancestors arrive in the United States as immigrants and try to establish themselves in the crossfire of hopes, expectations, and often harsh reality. With minute detail and precision, he gives accounts of their experiences from the Great War up to modern times, focusing on individual family members.
"These characters are a great cross-section of Americans and humans and serve brilliantly to reflect on the historic and personal events and issues that hit his family. This variety of people, who go their own ways and reunite at a family gathering, enables us to see a huge chunk of American history and sociocultural aspects of modern times through a patchwork of real lives. Well-written and with wonderful reflections, this is a very enjoyable and rewarding read."
—Christoph Fischer, author ofThe Luck of the Weissensteiners, Sebastian, and The Black Eagle Inn, Bath, United Kingdom
§
"TRULY an American classic."
—Augustine Garnier, drummer, Torrance Beach Drum Circle, Torrance, California
§
§
"EASILY ONE OF THE BEST BOOKS I'VE READ IN YEARS. To be honest, I didn't think I'd like it at all. This genre is not one I typically can get into, and the book is certainly not short, but it is SO good! The author manages to make an intensely personal story line remarkably universal and accessible. It details the particular struggles of one family throughout the 20th century, and their personalities and circumstances are remarkably reflective of American society as a whole with the many social and cultural movements that took place during that time span.
"I feel like I know every single one of the characters on a very personal level, which is kind of a trip considering they're real people! As the reviewer on the back cover said, 'The whole work is tremendously courageous.' I like that it's been categorized as both Memoir and American Studies, because this book is a beautiful combination of the two. I highly, HIGHLY recommend this book to anyone interested in American history, in the dynamics of family and religion, and in what defines us as Americans. Fascinating, informative, fun, smart, philosophical, and all around enjoyable."
—Svea Schreiner, teacher of English and American literature, Goffstown High School, Goffstown, New Hampshire
§
"GODGES' HEARTFELT AND PROBING EXPLORATION of his own family history provides for all readers not only a fascinating story of immigration but also an inspirational anthem to the human spirit. Godges shows us his family from their first individual arrivals in America, creating a portrait of how roots are planted in a new country, and then moves on through generations to show how, through feats of endurance and flexibility, his family has held together, connecting to each other and to their shared history, to survive and surpass the inevitable cycles of happiness and sorrow."
—Nina Sankovitch, author of Tolstoy and the Purple Chair, judge for IndieReader Discovery Awards, and book reviewer for The Huffington Post and readallday.org
§
"THIS IS A RICHLY CRAFTED MEMOIR of one family's journey from Europe to America in the early 20th century. By moving beyond the tale of a single Polish/Italian immigrant family that is guided by its central pillar of Catholicism, Oh, Beautiful portrays an epic story of a country, with a cultural history of 20th-century America that strikingly depicts the hardships of immigration, the distressing times of the Great Depression, and World War II. All this is in addition to the family's intimate struggles with mental illness and conflicting social movements. Featuring family photos and an expressive narrative—culled from interviews with three generations—Godges creates a perfectly woven collection of vivid personal stories to which millions of Americans can relate."
—The US Review of Books
§
"WHAT MAKES A GOOD BOOK? To me, it's one which I cannot put down, even when other tasks claim my time and attention; one which makes me read way too late into the night instead of going to sleep; one which I want to never end. Oh, Beautiful was exactly that kind of book. From the first chapter, I was hooked! And by the end of the book, I felt that the Godgeses were my family, and I was in turn amused, moved, angry, amazed, appalled by their actions and interactions.
"But besides painting a wonderful portrait of a specific family (his), Mr. Godges also gives the reader a vivid description of an era and of what happened to countless generations of immigrants to this country. Polish and Italian (in his case), French (in mine), Mexican or Chinese—the stories of assimilation, conflicts, faith, courage, failures, and successes make for a fascinating story.
"Finally, I admired Mr. Godges' honesty and obvious effort to describe his family members, in all their diversity, without judgment. His love for them, and their love for each other, shine throughout the book.
"Read this book! I've recommended it to friends and family. Whether for a slice of American history or for inspiration to look at your own family, it will enthrall you!"
—Dominique Smith, Santa Barbara, California
§
"THIS IS HOW A FAMILY HISTORY SHOULD BE WRITTEN. This is the best family history I have ever read. John Paul Godges has not only written a very detailed and accurate description of a wonderful interesting family, he held my interest from beginning to end. I hesitate to give too many details, but the first chapter of the book knocked me off my chair and made sure that I would not put it down. His family was not an ordinary family, by any means. He told the story, exactly as it was. He left out nothing. This story was real life. The characters were described, warts and all, which makes it so real for all of us. It took courage and talent to write as he did."
—Ellen Rowan Taylor, Sierra Vista, Arizona
§
"AS A NON-AMERICAN, I have less chances to discover what life was like there in the past. A very interesting and accessible way to learn American history (you hardly realise you are as you read), and it's always good to see the good along with the bad."
—Katherine Altec, Darwin, Northern Territory, Australia
§
"IN FAMILY HISTORY WRITING MONTH in February, 2012, this book kept coming up as a recommendation on how to weave the stories of multiple families together in a way that doesn't confuse the reader. I am so glad I purchased it because even though it is the story of one man's family, it really represents what many of our ancestors faced as they prepared to leave the only countries they had ever known to begin new lives in the United States. I thoroughly enjoyed this book."
—Kim Wolterman, owner, Provenance Publishing LLC, St. Louis, Missouri
§
"THIS IS AN AMAZINGLY TOUCHING family story of a seemingly ordinary American family whose lives encompass so many of the struggles of the 20th Century: the Vietnam War, the roles of women, the struggles within the Catholic Church, homosexuality, and mental illness. The six children of a World War II veteran and Polish immigrant run the gamut of modern-day crises of conscience, morality, and self-determination, yet they stay closely knit and firmly supportive of one another despite some major family rifts. Very interestingly told and a real time capsule of growing up in America in the mid- to late 20th century."
—Deedee Nagy, St. Paul, Minnesota
§
"WHERE HISTORY MEETS INSPIRATION. Others will go through what happens in this book. I want to share the inspiration that comes from it.
"I've been trying to figure out how to put into words just how this book reached me as a reader, as a human being, as part of a dysfunctional family. Most people shy away from what makes them vulnerable and uncomfortable. They hide the parts of themselves that they are not proud of, even the parts of other people that embarrass them. Those people can learn a valuable lesson from Mr. Godges. He has embraced that vulnerability and exposed himself, his family, his community, and his history in a way that takes nerves of steel. His portrayal of the history of his family and how he grew to be the man he is is raw, honest, and damn gutsy.
"Mr. Godges clearly has made the decision to own who he is. He makes no excuses and expects no approvals from the reader. It takes a very special kind of honesty for one to be able to be who they are without apologies to others, or themselves. If more people were able to embrace themselves and share themselves the way that Mr. Godges has, the world would be a far kinder and more tolerant place.
"Read this book. Read it for what it is with no judgment. Take the parts that resonate with you and leave the rest. Or take it all and use it as inspiration to be who you are with no excuses, no apologies, no regrets."
—Melissa Ratner, massage therapist, bs.vpweb.com, Sacramento, California
§
"THIS BOOK APPEALS TO A MASS AUDIENCE of baby boomer Catholics and their struggles. I grew up in the same era, same Catholic background (only Irish and German), with the same struggles of money, sexuality, war (dad in World War II), older brothers who almost went to Vietnam, other older brother who is gay. The book was so well done. It was reminiscent of our generation, what it was like to grow up in the fifties and the sixties. The struggles of our parents' generation to deal with the radical changes our generation put them through. I loved it all.
"I have nine brothers and sisters, and my mom and dad were daily Mass goers. They started out staunch, rigid Catholics, and the kids' struggles helped them to come to a greater understanding that God was bigger than the Catholic Church. I guess that is what I loved about Oh, Beautiful. Your parents seemed to end up in the same spot, accepting all the kids for who they were, not who they wanted them to be. It was one of those reads that I thought about during the day, and I couldn't wait to lay down in bed at night to get back to it. I guess that's the best compliment I could pay to any writer."
—Bob Huerter, capital campaign manager, Omaha, Nebraska
§
"I JUST NOW FINISHED YOUR MEMOIR. Four hundred eighty-five pages is a lot of room to hold or lose a reader. In my case, as a 70-year-old female who also writes, you held it to the end. It may be because my own great-grandfather came to this country from Poland, leaving behind a wife, bringing with him his favorite of six children (my grandmother), and starting a new life and new family. It may be that, but I don't really think so. I think it was because it was your story, because you made me feel you were next to me in the car as we drove on our way somewhere, and you related this all to me.
"I write only for my own family, for future generations that I will never know, and who will never know me. I am leaving my footprint, for them to read, for them to know me. Thank you for sharing your footprint."
—Judi Graham, Kissimmee, Florida
§
"I RECOMMEND THIS AS A 'MUST READ,' a recommendation I do not give to just any book. If you like to read about families, American immigrants and their stories, large family dynamics, or Catholic families, I think you will find this a wonderful read."
—Catherine Stickann, alpaca farmer and textile artist, Rocheport, Missouri
§
"A GREAT TRIBUTE TO A REAL AMERICAN FAMILY. I'm not sure if I identified with any one character, but I found the immigrant experiences, the family dynamics, and the sincere dedication of all the characters to one another difficult to stop thinking about."
—William Ringer, Palm Bay, Florida
§
"THIS STORY READS LIKE A NOVEL. I love, love, love history and was intrigued to read about another family's journey to America and how they were able to blend their customs and traditions (Polish and Italian) into a life together as they moved from the Midwest to California."
—Heather Schoen, Goshen, Indiana
§
"RINGS TRUE. Great story about immigration in the early 20th century. The author and his siblings were born in the middle of the 1900s—weren't a lot of us—and the tales of their growing to adulthood echo some of mine."
—Beth Benko, Broomfield, Colorado
§
"WHAT DOES IT MEAN TO BE AMERICAN? I am American because my German-Polish-Ukrainian (and a bit of Dutch) self was born in Pennsylvania and not Odessa or Krakow or Dresden. This is because my great-great-grandparents rustled up some courage and inspiration to travel to this land of opportunity, whether leaving with relief or forced to make sacrifices. I don't know exactly where or when these events happened, but Oh, Beautiful makes me want to find out!
"This is an excellent book, partially because it is so well written, and with such passion! It is mostly an excellent book, however, because it is an excellent story. Any epic family saga that begins with hobos on a train is destined to be an awesome read!
"Readers will enjoy thoughtful, heartfelt, and hilarious stories spanning generations of lives intertwined with American history. Full of sadness and pain, but also personal growth and immense hope, these personal histories will make an impact on you! They may spark an interest in genealogy, or they may inspire you to pick up a musical instrument and attempt to play it, join the military, learn how to surf, cook Italian food, become a teacher, or volunteer for AIDS awareness charities. Regardless, you will have a BYOOO-tiful time!"
—Megan Bechtel, Lancaster, Pennsylvania
§
"THIS BOOK IS A GUTSY EXPOSÉ of a Polish immigrant family, its trials, struggles, disagreements, and connections. It runs a gamut of issues from mental illness, homosexuality, individualism, marriage, poverty, Catholic religion, and success into an interesting chronology of the Godzisz family over the 20th century. Although listed as an independent author, John Paul Godges is an experienced editor and a fine writer. There are many philosophical musings embedded in the text, and the pride of the Godges family shines through the clouds of discord."
—Mike Davis, Neosho, Missouri
§
"REGARDLESS OF MY CURRENT 2ND-CLASS CITIZEN STATUS due to my lack of Constitutional rights and protections, I love this country, and I served it proudly in uniform for 22 years. This book served as a great reminder of all of the things I love about it. It let me put aside our current political ills and infighting and think about the things we do get right. Also, admittedly, my own family is the same sort of mix of immigrants, soldiers, good eggs, bad eggs, and everything in between. I couldn't help but draw parallels. When you read this, you'll do the same.
"The author, John Paul Godges, writes with the neutrality of a well-trained journalist but uses the imagery of a top novelist to set the scene and capture the reader. This book will draw you in from page one."
—Michelle Hagans, U.S. Army Staff Sergeant (Ret.), and blogger for Shelly's LGBT Book Review Blog at Shellysbookstore.com, Columbus, Ohio
§
"LIKE LISTENING TO A CLOSE RELATIVE TELL STORIES FROM OUR FAMILY'S PAST. John Godges' candid narrative captures the emotion and perspective of each of his grandparents, parents, and siblings. Like any large family, there are always different personalities and unique stories to go with each. John does a great job of allowing each family member's story to be told in an unbiased manner, and really opens up when writing his own chapter as well. I really appreciated John's honesty throughout.
"I would recommend this book to anyone who is looking to learn about the trials, tribulations, and celebrations of an American family through the generations. It will remind any reader regardless of ethnic or religious background that no family is perfect, but love, hard work, and faith do go a long way."
—Kate Peters, accountant, Philadelphia, Pennsylvania
§
"HEARTFELT AND GRIPPING. WOW! This doesn't read like a memoir; it reads like a novel. Thanks to the included photographs and the vibrant writing, I could see the author's family in my brain just like a movie in front of me.
"My heart really feels for this family, because they are so real and beautifully portrayed. At times, I wanted to scream at them; other times, I wanted to cry with them; and still others, I wanted to hang out with them or sit at their dinner table or swim at the beach with them. I finished this 500-page book in three days, because when I started I just could not stop reading. What an interesting life the author has led with such vibrant characters as family members. My heart really felt for this book, all the more because it is true.
"After I finished, I just sat in my chair with my eyes closed and pondered the feelings it left in me. A mix of happiness, sadness, frustration, and optimism—all inspired by the same family and the lives they have led, vividly portrayed in this masterpiece. I feel so honored to have read this book and am joyed that it will live in my library."
—Cassie Absher, high school teacher, Eudora, Kansas
§
"BRILLIANT JOB OF PORTRAYING WHAT BEING AMERICAN is really about for all of us non-Mayflower, non-Daughters of the American Revolution types. The American Dream really takes on many forms, which, after all, is kind of the point of the country."
—Matt Jaffe, author, The Santa Monica Mountains: Range on the Edge, Calabasas, California
§
"I REALLY ENJOYED TRAVELING THROUGH TIME with the author and his life experiences. I was fascinated by all of the details he shared about his family prior to coming to America. It reminded me of the stories I know about my own past. Being a descendant of war-torn Germany, with little formal record of the past, I wish I had as much knowledge about my family beginnings as the author has of his. What a gift to have a full understanding of where a person comes from. While reading this book, I could truly understand the love and compassion the author has for his family. I devoured this book in three days. I recommend it to those who are interested in reading about the fabric of family, cross-cultural experiences, and history."
—Stephanie Witkiewicz, homemaker, Trevor, Wisconsin
§
§
"IT GOES TO THE VERY HEART of what may be called 'the American experience.' The story of the family, and the broad range of social pressures its members face, will strike a familiar chord with many readers. For it is, in many ways, a collective story. Certainly the author, his mother, his father, and his brothers and sisters are all their own individuals, yet they are familiar figures as well."
—Brother Jeff Shackleton, OFM, editor, The Way of St. Francis, Sacramento, California
§
"STORIES OF FAMILY EXPERIENCES ARE WOVEN TOGETHER in a way that millions of Americans can personally relate to. And the pages of family photos—namely, the poses, the facial expressions, the vintage clothes, and the furniture—make the images look like the pictures pasted in the scrapbooks and stashed in the cardboard boxes in the homes of your family and mine."
—Chuck N. Baker, managing editor, The Veterans Reporter, Las Vegas, Nevada
§
"WOW! I WAS SURPRISED, SHOCKED REALLY, by what an emotional experience it was to read about someone else's family journey. It just goes to show that the story of a family, or individual, is (in microcosm) as epic as the story of a country, or species. It was a wonderful experience. Thank you for sharing your love and insights."
—Sharee Anne Gorman, founder, 1world1wage.org, Los Angeles, California
§
"A BEAUTIFUL STORY. The story of family conflict and survival, a blending of cultures, and the struggle of growing up Catholic. The book also deals with mental illness and how it impacts siblings and parents. Very well written and a very good read."
—Michael L. Sheppeck
§
"THIS MAN HAS WRITTEN AN AMAZING FAMILY HISTORY of his parents and siblings and self. It is an American history, a brave disclosure of a big family with lots of challenges, and a fantastic family history. It's about immigrants (we all descend from immigrants) and immigrating, about the power of families for good and ill. It's about what it is like to be Catholic through and through. There are some real surprises about how things turn out, about what little kids in a family turn into. How he got all the details he did are beyond me. How he got family to discuss and give him quotes about themselves is beyond me. It's a big book, 400 and some pages, but very captivating, and there were times I couldn't put it down. It is going to be my pick for my book club because it is an important book with lots to discuss, and I am always trying to preach the doctrine of learning and recording family history, and he has done that so well."
—Clytee Gold, veterinarian, Holladay, Utah
§
"YOU SHOULD GET THE PULITZER PRIZE FOR LITERATURE. Oh, Beautiful is a masterly work of social Americana. My family came from southern Italy, as did yours. They are from the small town of Cannetto in Provincia di Bari. I could relate to the experiences of your father and mother and all your family. Your father and mother were incredibly remarkable people! They sacrificed so much for all of you. I am giving your book to my four daughters to read. God bless you. Ciao e buona fortuna!"
—Dominic P. Giangregorio, former member, U.S. Foreign Service, U.S. Department of State, Palm Springs, California
§
"A SHINING EXAMPLE FOR FAMILY HISTORIANS. An epic portrayal of 100 years of family history mixed with 100 years of American history. There are so many wonderful things I can say about this memoir. I related to the family narrative on many levels.
"As a family historian, I enjoyed the larger story of five generations spanning 100 years and the struggle of a new immigrant finding a life in America. As a descendant of a Polish immigrant (my great-grandfather) and having married into an Italian family, I related to the many eccentricities of these two cultures displayed so fully by the author. As a child growing up in a very Catholic family, I could have easily changed places with the Godges children. As a member of a large family (six children as well) growing up through the 60s and 70s, I related to day-to-day events of the time but also to the struggle of finding your place within a family and within the larger community and as an individual.
"What makes Oh, Beautiful so stunning, besides the seamless writing, is that it will speak to every reader. You do not have to be a Catholic or be of Polish or Italian heritage; you don't even have to be an American (I'm Canadian) to fully appreciate this book. You only have to be a member of a family to have this story speak to you.
"I read this book from my Kindle, but if you love a beautiful book for not just its words, Oh, Beautiful meets all the criteria. The print book, with its striking front cover and family photographs printed on high-quality paper, is a book lover's dream.
"I can easily shine a light on this family narrative as a wonderful example for other family historians considering penning a memoir/family history. Mr. Godges has shaped his family story through a blend of oral histories along with genealogical and historical research. Without hesitation, I can hold up Oh, Beautiful as a wonderful example of family history storytelling, and it will sit alongside The Glass Castle and Angela's Ashes on my list of great reads for family historians."
—Lynn Palermo, The Armchair Genealogist, Simcoe, Ontario, Canada
§
"GODGES PRESENTS A VAST NARRATIVE depicting what it means to be an American, told through the lens of an expressive family story.
"Written in four parts, Godges' first memoir spans his family's immigrant beginnings to his parents' assimilation to a family of six kids growing up, growing apart, and finally coming back together. The memoir is rich with the cultural history of 20th-century America; the hardships of immigrants, the harrowing times of the Depression and World War II, dealing with mental illness, the tumultuous Vietnam-era social divide, and the AIDS epidemic all impact Godges' family. The author shines a spotlight on each member of the family particularly affected by these events, hanging back until his turn to present a facet of American life deeply meaningful to him—being a gay man in this country. Roman Catholicism also permeates the book, providing a pillar of community for the Italian- and Polish-American family, but also becoming a divisive force between husband and wife and parent and child, causing the family to face questions over divorce and homosexuality. The intricately crafted narrative is written with the specificity of a historian, seamlessly flowing through the decades. Yet the book is also poignant and personal, capturing the intimate, intricate workings of a family with amazing clarity. Godges concludes that "to be an American in the fullest sense of the word meant to discover oneself as an individual within a community." This ambitious book succeeds in negotiating the balance between individual and community, telling the engrossing story of an individual family within the greater society of America.
"A satisfying, well-crafted reminder of how one family's story can encapsulate the cultural history of America as a whole."
—Kirkus Reviews
§
"I REALLY RESPECT WHAT YOU SAID ABOUT GAYS NOT EXPECTING ENOUGH from their intimate relationships. I've been a Catholic school teacher for many years, and I hold a minority opinion (for a person who is a part of the educational institution of the church) about gay/lesbian relationships. I believe gays should seek the same type of committed, sacramental love that straights aspire to possess. Of course, I don't share this opinion when I teach in my Catholic high school, but it was refreshing to hear your intelligent and faith-inspired view of homosexual love. Thank you very much for sharing your family's story of assimilation in American culture. I learned a lot."
—Unidentified upon request, central California

§
"I STARTED THIS BOOK AND FINISHED IT IN ONE DAY. I literally could not put it down. The author is one of six very different siblings, and the book covers his family ancestry and his childhood. It reminded me of Forrest Gump in a way, showing the family dynamic in relation to the events that were going on in the world at that time. I felt almost as if I was there with the author and really liked his style of writing. This book is so much more than an autobiography, not just your typical blah blah blah, but showing the progression of him and his siblings. My heart went out to him when he was writing about his mentally ill sister, Geri. I can relate to this very much. I have a sister who is mentally ill, and I thought the author did a great job in painting the portrait of mental illness. I highly recommend this book, and it will make a wonderful addition to my library."
—Laura Goodwin, 911 operator for the City of Houston, Conroe, Texas
§
"I'M DONATING A COPY of Oh, Beautiful to my local library in memory of my brother, Jim Heacock. I do believe others, particularly of later generations, should know about the goings-on in America before they were born. I'll recommend it to all my friends—along with the suggestion that they, too, donate a copy to their local libraries."
—William Heacock, East Moriches, New York
§
"I GET TEARY EYED while reading this book. I just get such a wonderful feeling inside reading about the hurdles the family overcame and what the author went through himself and how much they love each other through thick and thin. It's one of those books that gives one such a feeling of ambivalence—you're anxious for the ending but dreading it at the same time because the book is so good. This book is a keeper. I'm keeping it along with all my Frances Parkinson Keyes books—my favorite author."
—Bernie Hlivyak, Seven Hills, Ohio
§
"I COULD RELATE TO IT. My husband's family came from Poland and Italy, and they are Catholics. I would recommend the book. It dealt with topics that happen in real life but people don't want to talk about, which were mental illness as well as being gay. It is definitely a book that I would pass on to a friend."
—Susan Maj, Hendersonville, North Carolina
§
"THIS IS A FANTASTIC TRUE STORY about a smart, loving, hard-working, messy, all-American family—in other words, about all of us. I laughed, cried, fell in love, rejoiced, and grieved, not just for the extended Godges family but for my own and for everything that goes into being human. Seriously, it struck a nerve. Read it!"
—Shelley Wiseman, Santa Monica, California
§
"THROUGHOUT OH, BEAUTIFUL, Godges weaves the personal stories of each family member with American history—military, social, religious, and political—as each one faces challenges arising from internal struggles, family situations, and national events."
—Annie Lubinsky, assistant to the publisher/staff writer, The Beach Reporter, Manhattan Beach, California
§
"A WISE READ. From many places comes family, and from family, people go many places. Oh, Beautiful: An American Family in the 20th Century tells the story of one such family, as John Paul Godges tells a tale of the American melting pot, starting with Italian and Polish immigrants and how from all that their family went in many directions, speaking to the many types of people and beliefs that make up the modern American landscape. A dose of true Americana, Oh, Beautiful is a wise read and a solid addition to any American Studies or memoir collection."
—Midwest Book Review, Oregon, Wisconsin
§
"TRULY THE 'GREAT AMERICAN NOVEL.' I've been burning the midnight oil reading it after work every night. It is wonderful! John Paul weaves his family history into a colorful story that merges past and present. The reader gets a history lesson while being engrossed in each family member's story. Very well researched, and extremely well written."
—Diane Bucci, author of the forthcoming The Return of Mikey (Joshua Tree Publishing) and past president, Colorado Autism Society, Denver, Colorado
§
"LOVED YOUR BOOK! Being a first generation Italian-American, a Korean War veteran, and a recovering Catholic, your book has a special meaning for me. I could not put it down. Your family story truly represents what America is all about. This is the first time I have written an author to express my gratitude. Thank you for your lovely book."
—Richard Gistelli, Sonoma, California
§
"WONDERFUL MEMOIR. The author's mother, Ida, was the youngest of six Di Gregorio children, and I fell in love with this bigger-than-life Italian family; his father, Jozef, was an only child and more difficult to love, although my heart did break for him. What comes through is Ida's unconditional love and belief in hard work, and these are the real motivating forces for this American family."
—Helenka Kinnan, Rome, Italy
§
"THIS IS A GREAT BOOK! I really enjoyed reading about the family as they progressed through the history of America. It was a well-written book that provided entertainment value as well as historical perspective."
—Renee M. Robbins, fourth grade teacher, Twin Falls, Idaho
§
"WHAT A WONDERFUL BOOK. The author completely hits it on the head when discovering who we are as Americans, who each of our families is. The true story of his interesting and diverse family, this book has something in it that everyone from any background can relate to. A must-read, especially in these times of uncertainty in this country."
—Chris Kincaid, Tomahawk, Wisconsin
§
"A COMFORTABLE STROLL THROUGH TIME. Godges paints a picture of not only life in America, but the effects being American can have on life. We travel along with a European family, who become an immigrant family, who become an American family, with all of the love and joy and tragedy that transformations bring, with values that shift as surely as accents do. Much has been written about the large-scale events of the 20th century, Depression and Dust Bowl, civil disobedience and civil rights, war in Asia and assassins in Dallas. Here is displayed how those events changed life away from the epicenter, in the workaday world of the everyman."
—Dawn McIlmoyle, Hamilton, Ontario
§
"A FASCINATING BOOK. Beautifully done. My mood changed several times as I progressed. Godges kept me glued to the book."
—Art Fischbeck, historian, Mason City Public Library, Mason City, Iowa

§
"I WAS REALLY INTRIGUED by the descriptions of the CCC camp, as my grandfather also served in a CCC camp, and the descriptions of the time the author's father spent in the military at the end of World War II. We see how the family was affected by social, religious, and economic conditions and how they overcame their struggles. The last part of the book looks at each of the author's siblings and shows how their lives were also affected by the environment they grew up in. Several subcultures of American society are explored. The book ends with a description of the 50th Wedding Anniversary of the parents, and a retrospective look at the heritage they are leaving to their children."
—Steven Braman, adult educator, Tracy, California
§
"THIS IS GREAT STORYTELLING, a historical narrative that doesn't come across as such. You are genuinely interested in the family members. There is no dryness or disinterest in what is taking place. John Godges has mastered the art of transition, which I think lends so much to the enjoyment of this novel. While other authors writing in the same genre often irritatingly repeat the narrative as they switch from family member to family member, time period to time period, Godges avoids all of that. The reader journeys from life story to life story without feeling like they've rehashed the first five pages at some point in a previous chapter. Such a joy to read a historical narrative by an author who has realized you don't need to fill a book with information that has already been captured elsewhere. A very good read, already being passed on to a friend."
—Sissy Crane, Gatineau, Québec
§
"GODGES MANAGED TO ORGANIZE THIS BOOK SO IT FLOWS—from past to present, oldest to youngest. And it works, even with eight separate stories. And I truly appreciate that he never argues or implies that his family is somehow unique or better than others. The text makes it clear that everyone has a story to tell. This makes for a readable book and an enjoyable book.
"His family's history is fascinating, happy, sad, and bittersweet. He does an excellent job of showing how, for example, his father's forced choice to essentially abandon his mother for his father at the age of 11 affected his entire life as he looked for family, created his own, and did everything in his power to keep them together and give them all the best start in life he could. Without a strong father figure himself, he became one."
—Audrey Morris, Los Angeles, California
§
"THIS IS A BEAUTIFUL BOOK AND NOT JUST IN THE TITLE. The author has done an excellent job of telling the story of his family and their journey to the American dream. It is well written and an excellent read. I have enjoyed every page of it. One of my children found it first; she has also enjoyed it very much. I recommend it to anyone who has an interest in the immigrants who made this country what it is today."
—Eileen L Bremner, Austin, Minnesota
§
"JOHN'S WRITING WAS SO OPEN AND FLUID that I felt like I, too, was a member of his family. I was attracted to his stories about big-hearted family members. He showed us the warmth, conflict, resolution, then warmth again of his family. I really enjoyed reading it. I am now left with my own conflict of trying to decide whom next to give it to!"
—Jeff Brunner, Los Angeles, California
§
"IT IS A STORY ABOUT FAMILY, BOTH THE GOOD AND BAD, the search for individuality, and ultimately what binds a family together. I enjoyed exploring John Godges' family and saw many parallels to my own."
—Shelley McLeod, Sterling Heights, Michigan
§
"THIS BOOK WAS AMAZING. I expected it to read much like a history book, but it is so much more personal than that. From the beginning, the story grabbed me. The author states that this introspection on his family was a way for him to learn what America was, and who Americans were and are. He defines what it means to be American in a way that many people, I think, have forgotten—or maybe never really understood at all.
"This story made me remember sitting on the front porch and watching the old cars slowly go down the road, listening to the crickets and frogs at night, and listening to my grandfather's stories of how his grandfather came to America and how much of a blessing it was to live in a place where we could all be ourselves and be what and who we wanted to be.
"This book is a reminder that while we may disagree politically, culturally, and religiously, there is always a place for the American dream in America, and we should never forget that we do live in a great country. The subject is too inspirational for people to go without it in the political, social, and religious climate we are facing today. The book presents a very important look into the past that we must remember so that we can move forward into the future."
—Brandy Winn, Big Sandy, Texas
§
"IT WAS AN ABSOLUTELY WONDERFUL READ! John Paul Godges manages to answer the question that he asks in the beginning of the book (What does it mean to be American?) and keep it relevant to the very end. It is a wonderful book not just on the changes in America but also on how different people reacted to them. It is amazing how open he is about his family and what each family member says and does with their life. The book would be a good read for not just people who like history but also anyone interested in human interaction. Everyone is believable in their frankness, and you can picture each one of them."
—Tracy Koenig, Burns, Oregon
§
"THIS IS A STORY THAT WILL RESONATE WITH EVERY AMERICAN. Godges recounts his family story through three generations, from Italian and Polish immigrants in the early 1900s to the stories of himself and his siblings growing up in the turbulent 1960s and 1970s. Each character's story exemplifies some quintessential part of the American experience."
—Kate Wejnert, Snellville, Georgia
§
"FANTASTIC STORY. TRUE AMERICANA. The book is not short—it has 532 pages—but it encompasses about 100 years of family history and it's a fast read, so it's not too long, either. It elicits many different emotions: joy, sadness, shock, disappointment, hope, determination, and love. I appreciate the amount of research and the painstaking effort of committing such poignant memories to print. My favorite parts included the sections where the Di Gregorios become established in Iowa and the detailed descriptions of Joseph's (Jozef's) wartime experiences during World War II, probably because this was long before my time and it was a glimpse of the time when my grandparents were young. All in all, it was a fascinating story, and I highly recommend it for anyone who enjoys biographies and family histories."
—Dolly Martino, Lorton, Virginia
§
"I ENJOYED EVERY PAGE OF THE BOOK. The author's use of the immigration of his family to America gives the reader a real look at what life was like for them when they came and through the years. As the book goes on, it is easy to see the times of my great-grandparents and grandparents, my parents, myself and siblings, and now what America is like for my daughter. I have recommended this book to all of my reader friends."
—Wanda Johnsen, Reno, Nevada
§
"THE COVER OF THE BOOK IS SO APPETISING, and the text did not let the cover down. I sailed through the first half of the book, often comparing our lifestyle in the 50s to the 30s in the book. We collected coal on the railway embankment, chicken was a luxury once a year, the only time we had a peach was at every harvest festival at church, and we collected the fruits of the woods and hedgerows. The second half of the book was a little harder to read; however, it was very thought-provoking. A thoroughly good and interesting read from cover to cover."
—Stuart Hargreaves, Lancashire, England
§
"HONESTLY, THE ORIGINAL REASON why I wanted to read this book was the cover picture. The young man standing in front of a U.S. CCC truck piqued my interest. The book itself wound up mightily surpassing the photo on its cover.
"I have nothing in common with the author. Both sides of my family have been here in the U.S. since before there was technically a U.S. of A., whereas the author's family is one or even no generation removed from Poland and Italy. And yet in some sections of the book I'd find myself nodding or whatever, because something that the author described was part of my childhood, too, though it wasn't always in the exact same way. (In the case of the 'Beer Barrel Polka,' it wasn't a recording but a piano roll, and now for the rest of the week I'm going to have it stuck in my head, thanks to the author.)
"Aside from the lingering music in my head, I was impressed with just how well the author managed to write a memoir of his life and his family while also writing a pretty good book about American history. It's an enjoyable read and a quick read, which cannot be said for even some of the very best memoirs. I loved that the author was able to write about everyone in his big family, from aunts and uncles to brothers and sisters, in such a way that I was able to keep all the people in the story straight. A sign of a good book.
"Everyone needs to read this. It's touching and interesting, and c'mon, doesn't the cover just say 'read me, or else'?"
—Danielle Kimerer, Reading, Massachusetts
§
"MR. GODGES, YOUR BOOK SEEMS LIKE A SONG OF AMERICA. There were lyrics that I hadn't sung for so long. When I came to them, I sang along.
"Both sides of my family have been here for hundreds of years, yet so many of your family's experiences are mine, too. Your mother could have been my childhood friend's mother easily. Your father, joining the Civilian Conservation Corps in Michigan as an escape from his broken family, could have been my father. He joined in Indiana when his mother and father divorced and his mother could no longer feed her children. Your sister Geri could have been my Aunt Pody. You told the story of Americans the way that it should be told: as a memory of all the good and the bad, all the tragedies and celebrations of family. You also expressed the feeling of pride in being an American.
"You don't have to be an American Catholic to appreciate this book. You just need to share in the common experience of America and learn what is good from it and how to improve it. Thank you, Mr. Godges, for writing this song to America."
—Carol N. Wong, Allen, Texas
§
"ONE OF THE REASONS A LOT OF PEOPLE GIVE for not reading books on history is that they are not relevant to their lives. I have to agree with them that most history books are boring recitations of dates, wars, treaties, and the important figures of those eras, accompanied by dry analyses. It is difficult to imagine what life would have been like for ordinary people during those times.
"John Paul Godges offers a different take on history. He writes about 20th-century history from the point of view of his family's history. Starting with his maternal grandparents' experience immigrating from Italy through his parents' 50th wedding anniversary party, he illustrates the important events of the previous century.
"Suddenly, history becomes relevant. Thanks to the Godges family, readers experience vicariously the major events of the 20th century and how they impacted the lives of ordinary people. Instead of the 'immigrants came to America seeking a better life,' we are treated to stories of what life was like in Europe and what 'a better life' actually meant once people arrived here. Likewise, the turbulence of the 1960's had different effects on different people, as illustrated by the lives of different members of the family."
—Caren White, Middlesex, New Jersey
§
"THE BOOK IS A CELEBRATION of the coming together of two people from differing backgrounds who share in the making of a family that is beautifully American. I am in awe of the way the author was able to gather the history of his family and put all that information into a gorgeously written text. I believe the book speaks to the American family in the 20th century in general. It is very representative of the lives of many of us. I have recommended it to many people. I hope the book will be included in classes at the college level one day. I think it would be a valuable addition to the American Studies curriculum. I will pass that idea on to my alma mater."
—Christi Offutt, Churchville, Maryland
§
"I LOVED EVERY PAGE OF IT!! This author mingled his personal family history with actual historical events and coordinated them perfectly with interesting cultural information, making this enjoyable and entertaining. This book was impossible to put down and so obviously well-researched. It was simply a joy to read!!"
—Laura Horgan, Chesterfield, Virginia
§
"AS A NOVICE GENEALOGIST, I've often thought about how I would write the story of my family, and this book is an example of a great way to do it. John covered all the joys and heartaches and struggles of a family with differing attitudes but strong beliefs."
—Donna Osterbaan, Marshall, Texas
§
"THIS BOOK IS JUST WHAT IT SAYS: Oh, Beautiful."
—Lynn Cichowski, Shelton, Connecticut
§
"THIS BOOK WAS A GOOD EXAMINATION OF AMERICAN CULTURE in the 20th century as seen through one family. The point is well made that we can all have our differences of lifestyle, opinion, and beliefs and still be one family (read "one country"). Just because we're different and have chosen different paths and beliefs doesn't mean we should hate or excommunicate each other. That was really the message from the book."
—Alice Chesworth, Portland, Oregon
§
"IT WAS WONDERFUL. I got more insight into Catholicism and the church than from any other source. The same for mental illness and homosexuality, male and female."
—Albert Caredio, age 75, Playa del Rey, California
§
"WOW! THIS SPRAWLING BOOK IS A LOVE LETTER to Mr. Godges' family, but also a remarkably sensitive and intuitive history of the ordinary American in the 20th century. I can imagine this book being a wonderful supplement to a textbook in a high school American history class. I only wish someone in my family had written such a book before our family's stories were lost to time. And lost those ordinary stories certainly are without someone like Mr. Godges to record them.
"Mr. Godges comes to the task with training in journalism and in American history, and he puts those skills to use in this well-researched story. Once I got a chapter or so into the book, the words fell away, and I felt I was hearing this story of very real people from a master storyteller. The pages flew by. The story ranges from Italy and Poland, to small-town mid-America, to baby boom kids growing up in California. The range of the American experience encompassed in just this one family is amazing. Each of the six baby boom kids also represents unique aspects of the American culture.
"This paragraph from page 401 seems to sum up much of the message of the book: 'The working-class immigrant families were playing out the classic American drama. Their resilience and teamwork in building stronger communities in the beleaguered flatlands beneath the Hollywood sign, that national shrine to vanity and fame, posed a stark contrast between what America meant to different people and, in many cases, to different generations. It occurred to me that America would cease to be America without a regular infusion of these kinds of stalwart, tight-knit immigrant communities.'
"I also liked the way Mr. Godges was able to examine the intricate relationships within his own family, always with the kindest eyes. At the end of the book, in conversation with a cab driver after his parents' 50th wedding anniversary Mass, he puzzles through the balance their two personalities achieved and compares that to the balance the American national character juggles:
"'Immigration. Assimilation. Going our separate ways. Coming back together again. It's a big balancing act. A great big balancing act. . . . Dad and Mom carried on their own version of the same argument. He became this rugged individualist, the self-made man who stood up for his beliefs no matter how many people he pissed off. But she's always been the communitarian. For her, the whole point of life is to share it and enjoy it with one another while we have the chance. Otherwise, life ain't worth the trouble' (page 481).
"Mr. Godges, I'd like to give a heartfelt thanks to you for sharing your family's story with the rest of us Americans. It's a story we need to hear, over and over again."
—Caren Nichter, children's librarian, Louisville Free Public Library, Louisville, Kentucky
§
"I ABSOLUTELY LOVED reading the story of John Godges' family in America and what influenced them. This is one book that I had a very difficult time putting down. The last pages contain additional photographs of the family throughout time. This is something I truly enjoyed after completing the book. I enjoyed everything in the book, from the style of writing (which is very engaging) to how the story is laid out. I definitely recommend this book to anyone who loves history, family stories, or just a great read! I am recommending this book to be added to the Chautauqua Literary & Scientific Circle reading list."
—Elizabeth Hancock, Troy, Alabama
§
"EVERY AMERICAN SHOULD READ THIS. The depth of this book will leave you speechless. I felt spellbound and could not get myself to stop reading until the very last chapter. In sections, I burst out in laughter; and others, in tears. I wish it were longer. After finishing, I went out and bought two copies for close friends of mine. I have never read a book that showed such true compassion and love for one another."
—Trinity Kevorkian, Staten Island, New York
§
"THIS STORY HAS SOMETHING FOR EVERYONE. Written by the son of immigrants, a devout Roman Catholic, and a seasoned journalist, Oh, Beautiful is the amazing memoir of a 20th-century family. The story is told from the perspective of the youngest son but details the lives of his parents and siblings. It is rich in detail, historical research, and a sensitivity to time, place, and issues that have impacted life in America and made us who and what we are. The book was mesmerizing; I devoured it, and you will also."
—Sherilyn Ranstrom, Bountiful, Utah
§
"OH, SO BYOO-TIFUL! Godges tells his story like he ate his mom's homemade lasagna: layer by luscious layer. He methodically excavates incredibly complex concepts and circumstances—like mental illness, religion, homosexuality, patriotism, and individuality—down to the true essence, which allows them to be easily understood. The book is very insightful, intelligent, imaginative, and interesting, not to mention fun and entertaining. In short, it is a masterpiece. I couldn't put it down, but I did near the last few chapters because I didn't want it to end. I enjoyed every word of it."
—Toby Joyce, Torrance, California
§
§
"GODGES HAS ACCOMPLISHED A SMALL MIRACLE. He has given us an intimate family portrait of two generations—the stoic Polish-born war hero father, the irrepressible first-generation Italian mother for whom love of family trumped all, and their six talented, troubled, and wildly unconventional offspring. Godges' tale is wrapped in a compelling narrative that is at once clear-eyed and unsentimental, tender and loving. The author keeps himself modestly in the background—although his own story is surely one of the most moving and impressive—focusing instead on his parents and siblings and giving each a full measure of respectful attention. This reader savored the book from first page to last."
—Ann Shoben, Tucson, Arizona
§
"FALLING SOMEWHERE BETWEEN DE TOCQUEVILLE AND DE CHARDIN, Oh, Beautiful is a grand spiritual exhalation of what it means to be American. The stories of the various family members are told with the journalistic detachment and eye for detail that John Godges has honed in his twenty-odd years as an editor. I had expected the book to be well-crafted. I did not expect, however, for it to be cinematic and epic in its scope, and yet, by page 5, he had engaged me with a scene that might begin a Hollywood blockbuster. From there, he took me on a great American adventure in which the family's faith found itself continuously tested by conflicts arising within the family itself.
"Oh, Beautiful is not an overtly political work; nevertheless, it contains a profoundly political message. The traditionalists and the right constantly endeavor to claim sole proprietorship of what it means to be American. They are often oblivious to their own history. We are almost entirely a nation of immigrants who came here for the promise of economic opportunity, political freedom, and equality under the law. As a book that explores a single family whose political views span the spectrum in every generation, we find a fully realized, dangerous view that America is all of us: the narrow-minded reactionaries AND the wide-ranging liberals.
"Oh, Beautiful proposes that the author's family and, indeed, the entirety of America function as a dialectic between two goods. The first good is the individualism personified by Joseph, who was placed in the wholly untenable and unfathomable position of having to decide at the age of eleven whether he would follow his father to the promise of America or stay with his mother in Poland and who then had to build a life for himself largely on his own when his father proved unreliable. The second good is the communitarianism personified by Joseph's wife, Ida, who brought all the neighborhood children into the house and fed them and who instilled such a sense of the importance of family relationships that the immediate reaction to Joseph's excommunication of one of their daughters was the rest of the kids pledging to get together with her regularly.
"In some respects, Oh, Beautiful reads like Allende's The House of the Spirits. Prior generations strode mightily into America and accomplished legendary feats, creating the society in which we find ourselves. They raised crops in the garden and butchered their own pigs. And we, the current generation, seem weak, effete, and troubled by comparison. It moves from the magical and legendary past to the real and difficult present. And yet, unlike Allende's fictional family, the family of Oh, Beautiful remains whole and happy despite their struggles for acceptance. Thus, Oh, Beautiful is a hopeful vision of an America that perpetually arises from the dialectic between the individual and the community."
—Scott Schulz, mathematician, Oakland, California
§
"INSPIRING AND ENGAGING. Oh, Beautiful is a page-turning mix of multigenerational memoir and American history. The story of this immigrant family's life in America includes a decapitation, a childhood shooting, bootlegging, mental illness, and a recipe for authentic Italian pasta sauce. These and other events present both constant challenges and the constant reinterpretation of family and faith. In an age where 16-year-olds are publishing bestsellers about warring dragons and teen vampires, it is incredibly refreshing to read something so well written. In addition to subtly engaging you in some of the major events in American history over the last century, Oh, Beautiful will inspire you to recover your own family's secrets and gems."
—Stacy Coyle, lecturer, American and environmental studies, University of Denver, Colorado
§
"ONE OF THE BEST BOOKS I'VE READ IN YEARS. One cannot read this wonderful book without a personal running commentary on one's own family and one's own destiny. John Paul Godges' talent for writing is obvious, as he drew me into his own personal experiences and the complex drama of his family. The story is so very warmly expressed that I feel I know each member of the family very intimately, as I am almost a member, albeit by proxy. His own personal expressions of being gay are so very poignant, meaningful, and loving. For me, it is one of the best chapters in an already superbly written book. I am impressed especially by the way Godges weaves his family history into a commentary on life in America, which I am sure will spark the interest of many readers. I will certainly recommend this book to my family and friends."
—F. B. Thompson, former Unitarian minister, New Mexico

§
"I COULDN'T PUT IT DOWN. The thoroughness of research in written materials and interviews is amazing. It's a huge feat for anyone to delve into one's family and personal history as much as this author does. I was fascinated by the nuts and bolts of the immigrant experiences. I was even more engrossed by the importance of the Catholic Church in the family's lives. My understanding of the religion is fairly superficial, limited to the basic rituals and holidays plus some of the more objectionable dogma regarding women, gays, and contraception, but this is the first book I've read that really made me feel what it's like to have Catholicism as the central philosophical and moral pillar of one's life. I love how the book weaves together the experiences of the family members and their struggles with faith, assimilation, community, and each other into a thesis of what it means to be American."
—Alice Waugh, writer and editor, Boston, Massachusetts
§
"I'M THUNDERSTRUCK at how relevant the family history is to what is happening today: the flu epidemic, poverty, conservation, issues of religion and race. It's like reading the bloody headlines these days. This book has made me laugh and cry. And look at things with a different perspective. The book will speak to anyone who picks it up. As a Mexican-American Catholic, it definitely speaks to me."
—María Victoria Cárdenas, writer, Chicago, Illinois
§
"THE WHOLE WORK is tremendously courageous."
—John D. Faucher, attorney, Santa Barbara, California
§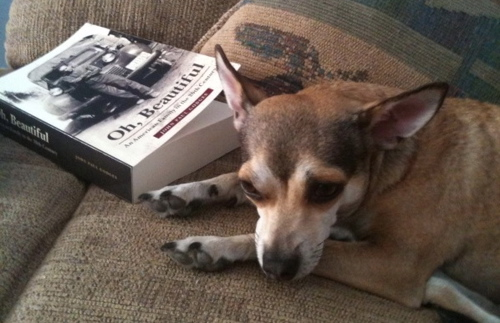 Penny, too, ponders it all after a good, long read.
§