11. The AIDS Epidemic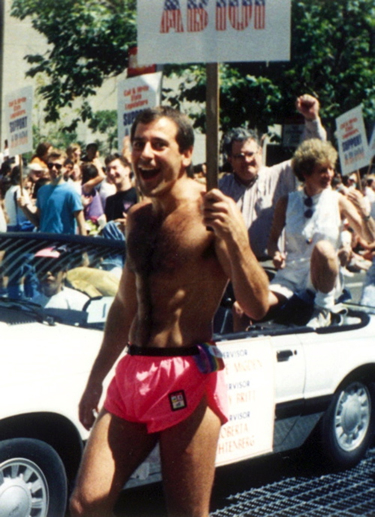 John Godges marches in the 1991 San Francisco Lesbian & Gay Freedom Day Parade alongside openly gay San Francisco Supervisors Harry Britt and Carole Migden (seated together in the car at right). The marchers were calling for passage of Assembly Bill 101, which would have banned housing and employment discrimination against lesbians and gays in California. The bill passed the state legislature but was vetoed by Governor Pete Wilson. At the time of the parade, John was living with two men who were a long-time couple, both of whom were dying of AIDS.
WHEN THE VIETNAM WAR AND WATERGATE SHATTER his sense of country, the schoolboy John finds refuge in the church. But the church becomes a primary foe of his homosexual hormones. His romances leave him disillusioned with society. Jazz becomes his consolation. In college, he regains his spirit. In Berkeley, he meets his guru. In San Francisco, he volunteers as an AIDS buddy, works for domestic partners legislation, and has a close encounter with the pope.